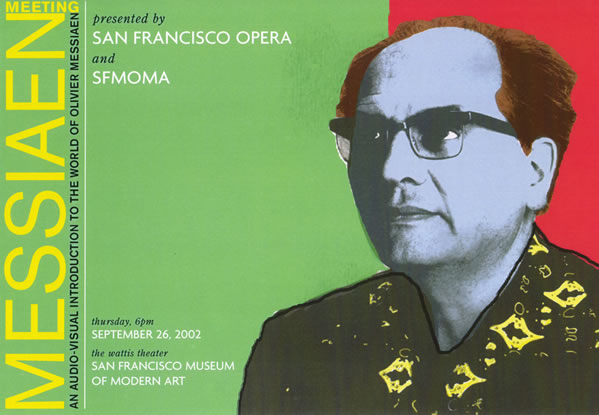 Meeting Messiaen
an audio-visual introduction to the world of Olivier Messiaen
organized by ELSA Productions on behalf of San Francisco Opera

September 26, 2002

San Francisco Museum of Modern Art
Wattis theater, 6.00 p.m. - 8.30 p.m.
Tickets available at SF opera box office ($15)
Call: (415) 864-3330

San Francisco Opera and San Francisco Museum of Modern Art present an inspired tribute to the French composer Olivier Messiaen, a key figure in modern classical music whose opera Saint Francois d'Assise launches the new season of SF Opera.

Introduction to Messiaen will go beyond the borders of contemporary classical music and highlight the influence he still has on today's artistic life. From fields as diverse as computer music (Subotnick, Wessel), jazz (Zorn), and the visual arts (Brereton), artists will present Messiaen's world and personality through their own work. The new opera production will be evoked by the performance of short excerpt from Saint Francois d'Assise.

These cross-disciplinary bridges will be highlighted by practical and didactic means. Kurt Brereton will evoke Messiaen's insatiable quest for birdsongs as well as synesthesia and the essential part musical colors would play in Messiaen's composition, through his paintings and installations. In informal discussions, computer music pioneer Morton Subotnick and eclectic composer John Zorn will share their interest in Messiaen's work. Scientist and improvising composer David Wessel will give a hands-on tutorial on the Ondes Martenot, a rare instrument that is key to Messiaen's Saint Francois d'Assise.

Live performance will include excerpts of the 3rd scene of Messiaen's Saint Francois d'Assise, Morton Subotnick's Gestures..., and John Zorn's Duras, a composition inspired by Messiaen's Quatuor for the end of time.
Schedule

This event will be moderated by Charles Barber.

Act 1: 6.00 p.m. - 7.00 p.m.
Kurt Brereton (visual artist)
Talk on birdsongs and colors in Messiaen's music.
Illustration of Messiaen's influence over Brereton's media art.
David Wessel (computer music composer)
and Mary Chun (Ondes Martenot player)
Presentation of the Ondes Martenot, and Messiaen's use of this instrument.

Act 2: 7.15 p.m. - 8.30 p.m.
San Francisco Opera ("Saint Francis" team)
A short excerpt of Messiaen's opera Saint Francois d'Assise will be staged and performed by SF opera team.
Morton Subotnick (composer)
In an informal discussion, Morton Subotnick will talk about Messiaen's influence on his compositions. He will perform excerpts from his piece Gestures... for computer and spatialized audio.
John Zorn (composer)
In an informal discussion, John Zorn will talk about Messiaen's influence on his piece Duras. Performance of Duras, featuring the Abel-Steinberg-Winant trio:

David Abel violin
John Eichenseer piano
Roy Malan violin
Ches Smith percussions
Julie Steinberg Hammond organ
William Winant percussions
Stephen Drury prompter
Panelist Biographies

Charles Barber (MA, DMA Stanford) is a conductor active in concert, opera, and recording. His teachers include Andor Toth, Marty Paich, and Carlos Kleiber. He is also active as a writer, and author of Lost in the Stars: The Forgotten Musical Life of Alexander Siloti, published to wide acclaim this year by Rowman and Littlefield. Barber contributed several dozen entries to New Grove Revised (London, 2000), and will be published by Cambridge University Press later this year in their new Conducting anthology. He did his principal doctoral work on Messiaen and his Turangalila-symphonie. He is a regular pre-curtain speaker for the San Francisco Opera, San Francisco Symphony, and Los Angeles Philharmonic.
Kurt Brereton is Adjunct Professor in Computer Based Art & Design at the University of Technology, Sydney, and the University of the Sunshine Coast, Queensland. An internationally represented visual artist, photographer and film maker, Kurt Brereton produced a CD-ROM titled Messiaen at Mt Kiera in conjunction with an exhibition of paintings and digital animations screened in Sydney during 2001. See www.spark.com.au for information on the Messiaen at Mt Kiera project. kurt@spark.com.au
Morton Subotnick is one of the acknowledged pioneers in the field of electronic music and an innovator in works involving instruments and other media, including interactive computer music systems. His "staged tone poem" The Double Life of Amphibians, a collaboration between director Lee Breuer, visual artist Irving Petlin and composer Subotnick, utilizing live interaction between singers, instrumentalists and computer, was premiered at the 1984 Olympics Arts Festival in Los Angeles. Jacob's Room, a monodrama commissioned by Betty Freeman for the Kronos Quartet and singer Joan LaBarbara, received its premiere in San Francisco in January 1985 and was expanded to a full-length opera for production in the Autumn of 1991 by the Minnesota Opera. Subotnick tours extensively as a lecturer and composer/performer and heads the Composition program at the California Institute of the Arts.
David Wessel studied mathematics and experimental psychology at the University of Illinois and received a doctorate in mathematical psychology from Stanford in 1972. He worked in IRCAM in Paris from 1976 to 1988, where he established a new department devoted to the development of interactive musical software for personal computers. In 1988 he began his current position as Professor of Music at the University of California, Berkeley where he is Director of CNMAT. He is particularly interested in live-performance computer music where improvisation plays an essential role. He has collaborated in performance with a variety of improvising composers including Roscoe Mitchell, Steve Coleman, Ushio Torikai, Thomas Buckner, Vinko Globokar, Jin Hi Kim, Shafqat Ali Khan, and Laetitia Sonami, and has performed throughout the US and Europe.
Drawing on his experience in a variety of genres including jazz, rock, hardcore punk, classical, klezmer, film, cartoon, popular and improvised music, John Zorn has created an influential body of work that defies academic categories. Born and raised in New York City, he has been a central figure in the downtown music scene since 1975, incorporating a wide range of musicians in various compositional formats, his experimental work with rock and jazz earning him a large cult following. His early inspirations include American innovators Ives, Cage, Carter and Partch, the European tradition of Berg, Stravinsky, Boulez and Kagel, experimental rock and jazz as well as avant-garde theater, film, art and literature. He tours extensively with his various ensembles, playing a great variety of music and his works are performed worldwide by rock bands, improvisers, jazz musicians and classical ensembles. He is astonishingly prolific with over sixty CDs of work available, mostly on his own label Tzadik and has received numerous commissions from, among others, the Kronos Quartet, the New York Philharmonic, EOS Orchestra, Netherlands Wind Ensemble, Brooklyn Philharmonic, Bayerischer Staatsoper, WDR Orchestra Koln and American pianist Stephen Drury.